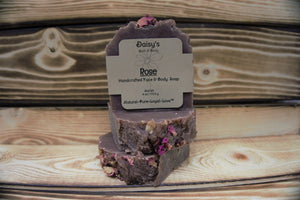 Rose Clay Facial Bar (2 in 1)
 Rose Clay Facial Bar and Mask

Adding Daisy's Rose Facial bar to your daily hygiene routine will not only gently cleanse your skin, it will help keep your skin feeling lovely as it lightly exfoliates any dirt, make up and dead skin cells while not disrupting your skins natural oils.  Rose Clay Soap is wonderful to use on all types of skin.
Made in small batches to ensure quality in every bar. Due to the nature of being hand crafted, designs and cuts will vary from bar to bar.
Fragrance Free
Palm Free
Vegan
Phthalate Free

Cruelty Free
Ingredients: Organic Oils of: Olive, Coconut, Avocado, Castor, Butters of Shea, Powders of Rosehip and Fig, Clay of Rose Kaolin
 The information provided here or elsewhere on  daisysbathnbody.com is not intended to constitute professional medical advice for treatment. We encourage you to consult your personal physician with any questions you may have regarding a medical condition.