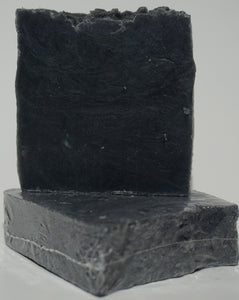 Detox (2 in 1)
Charcoal Soap (2in1)
Daisy's Detox facial and body cleanser bar is formulated with activated charcoal and an essential oil blend. It has been thought to help detox the skin from oil impurities and bacteria that can cause clogged pores and acne without drying out the skin. Best if used on oily and acne prone skin. Safe for daily use. 
Detox soap may also be used a mask as well. Lather with water, massage the lather over face avoiding the eyes, let dry and rinse with warm water 
Made in small batches to ensure quality in every bar. Due to the nature of being hand crafted, designs and cuts will vary from bar to bar.

Vegan

Gluten Free
Palm Free
Paraben Free
Phthalate Free
Ingredients: Organic Oils of: Olive, Coconut, Avocado, Castor, Fruit Butters of Shea, Essential Oil Blend, Activated Charcoal, Clay of Kaolin

*Daisy's Bath & Body LLC is making no claims that this soap or any of it's other products are intended to treat or cure any skin alienations or Medical Conditions. If you have sensitive skin or allergies, please consult your physician about the ingredients listed in our products if you are uncertain about any of the ingredients.*